How Exactly Is a Luxury Vinyl Plank Made?
­­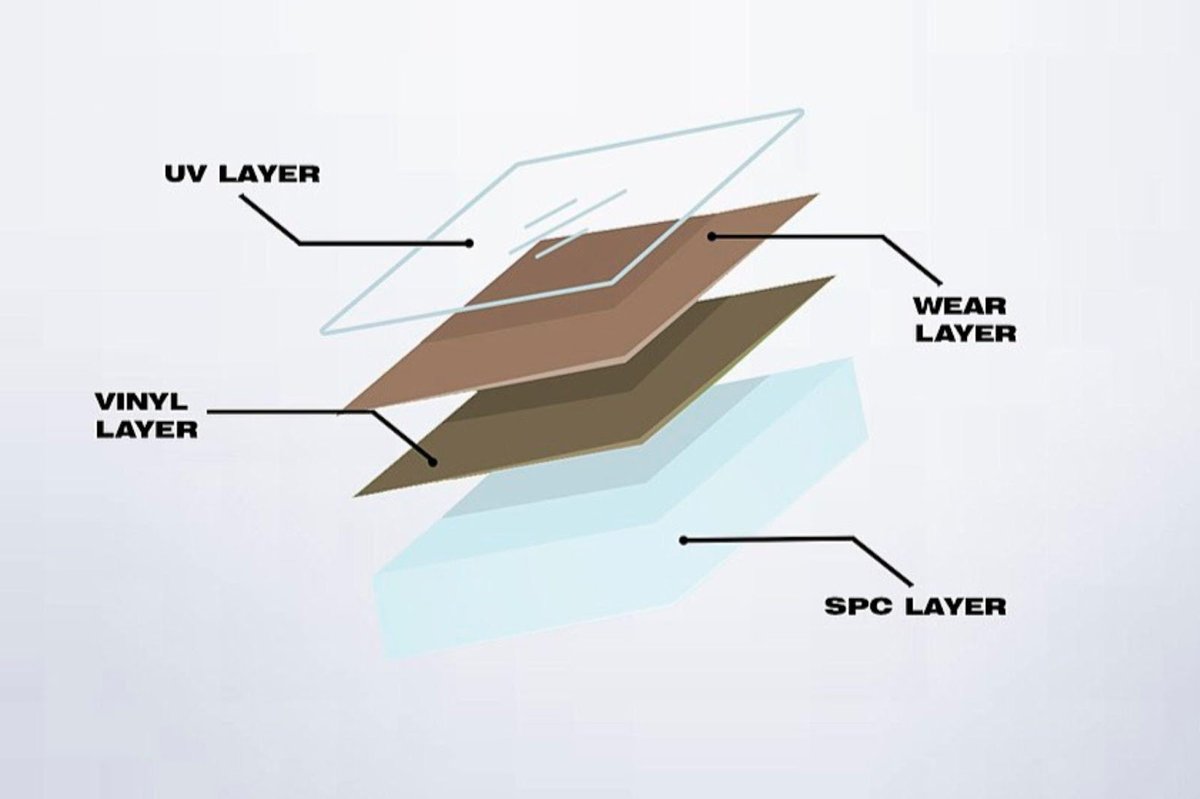 ­
Luxury vinyl plank flooring is primarily made of polyvinyl chloride, also known as PVC. This is a rigid plastic used in a wide variety of industries, many of which you are probably familiar with, such as plumbing.
The construction of the planks is made up of multiple layers, each of which serves its own individual purpose in the function of the flooring. These layers include:


Wear Layer: The wear layer sits at the very top of the plank and is responsible for protecting the sensitive core of the flooring. It gives the product scratch resistance and extra durability. It's transparent so that the print layer beneath can be seen. Occasionally, a UV layer is found on top.
Design Layer: This layer sits below the clear coat and is responsible for the color, texture, and pattern of the flooring. This is where the wood grain is printed, and in many cases registered embossed, to give the vinyl planks its hardwood appearance.
Base Layer: The base layer is the meat of the vinyl plank and what gives the product its stability. Depending on the quality of the product, the base can be made of different materials and can come in varying thicknesses. Higher quality luxury vinyl floors will also add an added stabilizing material in this layer, such as fiberglass, to give the floor more strength and stability.
Underlayment Layer: Optional and not found on all flooring planks, the underlayment layer is built-in to the plank so that separate underlay is not needed during installation. It can come in a variety of materials, each of which offers different benefits.




---
What Makes Luxury Vinyl Flooring Superior?
Luxury vinyl plank flooring is a significant step up from its predecessor - standard vinyl. While luxury has become a catch-all term to describe most types of modern vinyl flooring, it normally refers to how the base layer is constructed.


In luxury vinyl flooring, the base layer is normally comprised of a rigid core. Standard vinyl is quite flexible and can easily bend. It's made with a minimal amount of layers, and the thickness of these layers is significantly thinner - especially the wear layer.


Luxury vinyl has a core base layer that's made of premium, durable materials. This contributes to a sturdy plank that is close in resemblance to true hardwood. It'll last much longer than standard vinyl and also looks more authentic.


Luxury vinyl also tends to be much more expensive. On average it can be 4 to 10 times more per square foot than standard vinyl.

Source: The Spruce



---
What Determines the Quality of a Luxury Vinyl Plank?
As stated earlier, not all luxury vinyl flooring is created equal. There's quite a range of products, each costing different amounts per square foot. While you'll always be receiving a higher quality product than standard vinyl, there are a few things that contribute to the overall grade of luxury vinyl. The final cost of your flooring per square foot will be determined based on the combination of these factors.
Installation Method Style
Luxury vinyl flooring can come into two different installation method styles: glue-down and click-lock. These two methods contribute to the overall quality of the flooring. In general, click-lock will always be more expensive and of higher quality, as it's constructed with a rigid core and made of more durable base materials.


Glue-down flooring, although a more affordable option, is still a quality product that will install nicely into your home. It can be broken down into two further styles: hard set and pressure set.


Hard set requires adhesive to be spread across the subfloor, which the flooring is then laid on top of. Pressure set, also known as "peel and stick", features an adhesive backing that is exposed, and the plank is then pressed onto the floor. For obvious reasons, hard set is of higher quality and will have a much longer-lasting installation.



Wear Layer Thickness
The thickness of the wear layer is one of the single biggest determining factors in the quality of your luxury vinyl flooring. This is because the thicker the wear layer, the better protection it provides the printed color and pattern from daily wear and tear as well as scuffs, scratches, and dents. The wear layer thickness is measured in mil, which is one-thousandth of an inch. For many American brands the wear layer typically comes in 8 mil, 12 mil, 20 mil, and 40 mil. Generally, the higher the millimeters, the more expensive. For residential installations it is recommended to select a product with a minimum wear layer of 12 mil, and for more active families or homes with pets, a wear layer of 20 mil or more.



Core Material
If purchasing rigid core vinyl flooring, you have multiple options to choose from as far as the core material goes. These materials range in quality and durability, and it's important to understand which are superior. Common choices include:


Stone Polymer Composite (SPC)
Wood Polymer Composite (WPC)
Standard Rigid Core (Hardened Vinyl)

A base layer made of SPC is infused with crushed limestone core combined with PVC dust and a stabilizer, making it the most durable core on this list. As such, it's the highest quality you can choose. Renowned for exceptional durability, your flooring will be stronger than ever with this core style. WPC is also engineered with quality and durability in mind. However, its wood-infused core is lighter in weight and includes air pockets which may be susceptible to indentations in the product from furniture and heavy objects.

Standard rigid core is the lowest quality selection on the list, but it is still a significant upgrade from standard sheet vinyl flooring.
Source: Bob Vila


Backing Layers
A quality piece of luxury vinyl flooring will come equipped with a backing layer that serves as underlayment. This makes it so that you don't have to prepare your subfloor with underlay before installation. Backing layers come in a variety of materials such as foam, cork and felt, each with slightly different benefits.




---
What To Look For in High-Quality Vinyl Flooring
Besides the physical construction of the flooring, there are a few additional features that really signify quality flooring. When shopping for new luxury vinyl plank flooring, you'll want to keep an eye out for these features. They may seem insignificant, but they offer numerous advantages to your product that'll set it apart from more inferior flooring. Let's take a look at some.
Waterproofing
Make sure that your flooring product offers protection against water damage. In general, most luxury vinyl flooring is inherently water-resistant, but it's always good practice to double-check if it is waterproof. Both SPC and WPC cores are 100% waterproof, so you'll never have to worry about spills damaging your flooring.
It can also be beneficial to choose a plank that has moisture protection built into the underlayment backing layer.
Wear Layer Thickness
As discussed, the wear layer is the topmost portion of the vinyl plank that keeps the finish and base layer protected against damage. One of the biggest indicators of quality in vinyl flooring is the wear layer thickness. The thicker the flooring is, the more durable it will be and the greater scratch resistance it will have.
Source: whatisvinyl.com
Wear layer thickness is measured in mils. This is not to be confused with millimeters. The mils offered on flooring products can vary widely and can be as low as 1 mil or as higher as 40 mils. Generally, anything with a 20 mil wear layer or higher is considered a high-quality product. A 20mil wear layer will be plenty to handle the vast majority of scratches and dents.
Commercial Warranty
A hallmark of quality flooring is that many come with a commercial warranty. Choosing a product with one will ensure that your investment is protected from any manufacturer's defects. If something seems off about your product and it does not last as long as the manufacturer intended, you may use a commercial warranty to replace the product.